EDC kouskysveta contains basic things to help with unexpected events, travel and everyday life. The box contains over 25 different components and offers a very balanced content. It has undergone a five-year development, during which we honed it in every detail. EDC kouskysveta is created as a universal gadget for everyone in any situation. It weighs 160 g and fits in a pocket, backpack, handbag or kidney bag. It is suitable for bicycles, cars. It is very small and compact.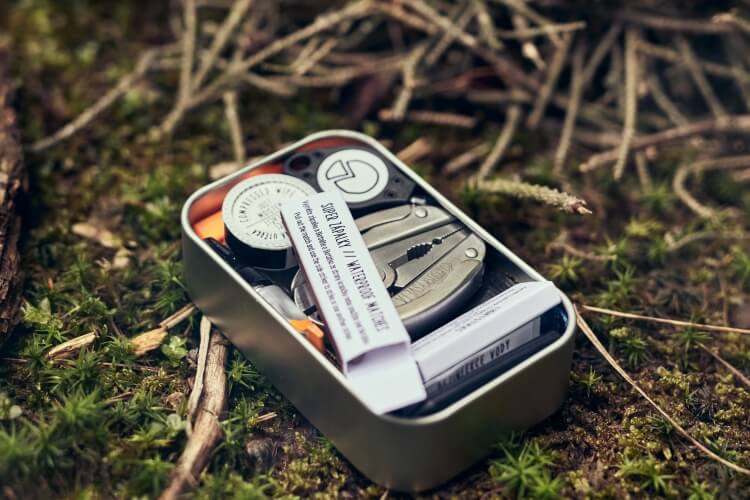 Content, size and weight are the main advantages of this Survival Kit. EDC kouskysveta is our original product, it is manufactured in the Czech Republic, we guarantee its quality. You can also buy spare parts from us (link below)
Be prepared for everything!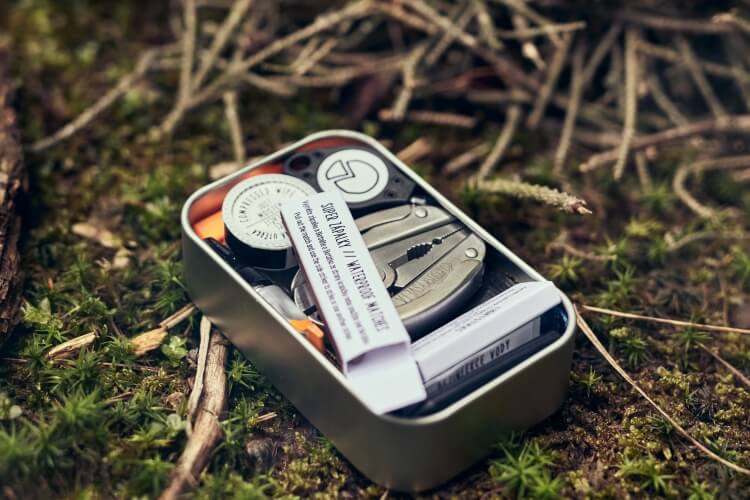 Compact tools that hide other GADGETS.
Multitool ninja card
A credit card-sized metal card that contains 11 additional tools.
Kovová karta velikosti kreditní karty, která obsahuje: Otvírák na konzervA credit card-sized metal card that includes: a can opener, a knife for cutting ropes, fruit, etc., a screwdriver, a ruler, a bottle opener, a four-size screwdriver wrench, a flat-head screwdriver or a hard blade, saw and scraper, ring for determining the direction on the map, wrench for small screws, hole for hangingy, nůž na řezání např. provazů, ovoce atd., šroubovák, pravítko, otvírák na lahve, klíč na šroubky ve čtyřech velikostech, klíč na ploché šroubky nebo čepel pro řezání tvrdých věcí, pila a škrabka, kroužek pro určení směru na mapě, klíč na malé šroubky, otvor pro zavěšení
Multi-tool pliers
Small metal forceps, which contain other 4 tools.​
Lightweight multifunctional folding pliers that fit in your palm. In addition, a small knife, a nail file, a screwdriver and an opener are built into them. In case of frequent use, there is also a hanging hole.
Whether you're traveling home or abroad, driving or cycling, or just walking with your backpack
along your own axis, you will certainly appreciate these things in KPZ.
| | |
| --- | --- |
| Flashlight | Compass |
| Water purification tabs | Zip lock bag |
| Sewing kit | Wire |
| Magic Towel | Nanocord Twine |
Flashlight
Small light, surprisingly powerful and efficient.
It can also be used as a spare lighting for a night biker. It also has a hook for hanging and the possibility to change the batteries.
Aquatabs water purification tabs
2 Tablets intended for the preparation of drinking water in bottles anywhere in the world. Used by NATO
One tablet is up to 5 liters of water. In total, you can create up to 10 liters of drinking water. Effective against diarrhea of travelers, Giardia, faecal coliforms, cholera, typhoid, dysentery and many others, including hepatitis A and E and salmonella. Before use, read the enclosed survival kit information
Compass
Small but accurate button compass
With a diameter of 15 mm, it ranks among the smallest compasses. You won't get lost with him! Be careful, however, that you do not use it near metal objects, which then lives your own life.
NanoCord twine
3 meters of the strongest string in the world.
You know parachute lines, sometimes called Paracord. Nanocord is a specially modified version, so that the diameter of the string was as small as possible while maintaining the maximum load capacity.
• Load capacity 16.3 kg
• Diameter 0,75 mm
• Material – Polyester / Nylon
• Light
• Stylish color does not fade in the sun
• Mold and UV resistant
• Made in the USA by ATWOOD, a world leader
Wire
1 meter of thin metal wire in compact package
Suitable for quick repair of a tent, hanging a hatch over a fire, eyes on animals, repairing a paddle …
Zip lock bag
just zip lock 6 x 8 cm.
Bag, for example for medicines, sugar, salt … Or take the beautiful beach sand as a memory.
Not only in the city one has to deal occasionally
with various pitfalls waiting for him here and there.
| | |
| --- | --- |
| Duct Tape | SuperGlue |
| Toothpick | Flexible pencil |
| Wet Wipe | Safety Pin |
| mirror | Paper Clips |
| Meter | Paper |
Duct Tape
0.5 meter of Duct tape
Toothpick

Hygienically wrapped wooden toothpick.
Nothing can spoil the day more than the discomfort between your teeth!
The toothpick can also be used as an emergency fork.
Super Glue
A little instant glue
Paper clips
Ordinary paper clips
Sometimes even with a paper clip you can do wonders. In addition to holding papers well, it's also a great helper when getting to your phone's SIM card
Wet Wipe
Napkin with antibacterial effect.
Antibacterial napkin. You better wipe it! 

Solution: Chlorhexidine Digluconate 0.2% – disinfection
Flexible pencil
An extraordinary pencil that doesn't break.
The whole pencil is partially flexible, so it absorbs impacts. The lead is specially formulated into a gel that will not break.
Ruler
19 inches / 50 cm long scale. Measure twice, cut once.
Sometimes you just need to measure something quickly.The scale is made of durable plastic. On one side is the scale in cm, on the other in inches.
Piece of paper
9 x 9 cm piece of paper
We also think of SAFETY. This is actually the most important part of EDC.
Multifunctional Whistle
First aid informations
Waterproof matches

Lightsticks

Condom

Scalpel Blade
Waterproof plasters

Alcohol Pad

 
 
Schematic info card – assembly instructions +other informations
EDC is packed in gift box
Multifunctional whistle
A small but loud whistle with an adapter for an unbreakable pencil and a scalpel
3D printed whistle with adapter for pencil and scalpel. Our original design. Very VERY LOUD!
First aid instructions
Basic information on how to help a person.
On the cap of the Survival kit you will find information on how to proceed if you find someone unconscious.
Waterproof matches
Wind and water resistant matches + cutter
3 Matches highly resistant to moisture and wind. It burns for about 10 seconds. For example, they are also used by NATO units
Lightsticks
3 colored light sticks, each in a different color.
Chemical light / glow sticks. They can be used as emergency lighting, for sports or fishing. Can be used safely in areas with a risk of fire or explosion. The rods are waterproof, so they can be used underwater or in rainy weather. They can be used, for example, to mark a path.
Alcohol pad
Disinfection of minor injuries or instruments.
Dimensions after opening:
60 x 30mm.
Content: 0.4 ml Isopropyl alcohol (70% v / v).
For disinfection of eg cutlery. It can also be used to disinfect minor injuries, but be careful, it contains alcohol and therefore stings a little. It can also be used to start a fire.
Scalpel blade
Sterile packed sharp scalpel blade.
Waterproof Plasters
2 quality waterproof patches
Condom
Condoms from durex. Designed not only for that one … 🙂
Yes yes, but in addition to the classic use, you can use it as a waterproof case, insulation, flexible bandage, to start a fire … Perhaps the most multifunctional thing in our EDC 
The card, according to which you will be able to compose our KPZ like a pro, you will also find the exact position of all components on it.
The card also contains the Morse code, important telephone numbers, some basic unit conversions, a small scale in inches, and also important information such as the dosage of water disinfection tablets.
In addition, there is a link to a video on how to put everything back into EDC.
A few words about our EDC.
We started designing the survival kit in early 2014. If you visited our website after a long time, you are certainly not surprised to see what transformation EDC has undergone 
 We are constantly improving it. We always come up with a new tweak or technology, and since we manage everything ourselves, we try to immediately implement the new improver in a new series. We are looking for quality materials, but at the same time we make sure that the price of the box does not climb to dizzying heights. We compile each kit manually in a small village in the Elbe. We therefore guarantee its quality.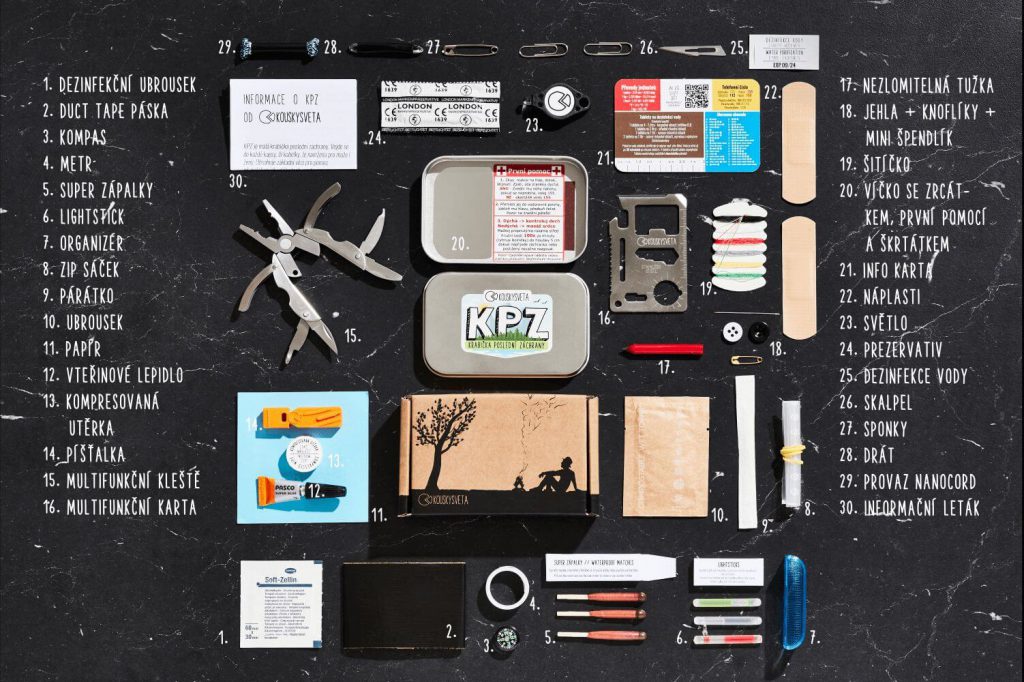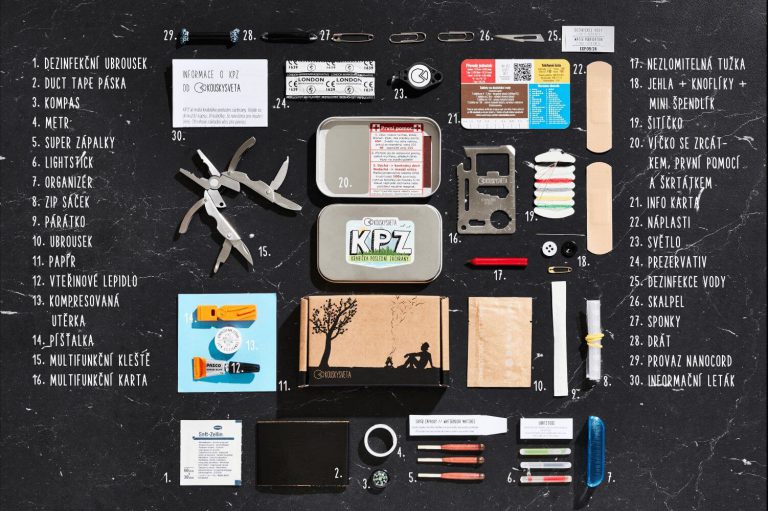 * the video tutorial is on the kit version from 2018. In the current version, the content is improved (see product photos). However, the tutorial can also be used on the current one.
In a luxurious hand-sewn bag in various designs, so that a woman has everything she needs on her travels.
Sutvival kit, with a fly weight of 110g, in a minimalist design, will delight you with its contents!
KPZ, která kombinuje krabičku poslední záchrany a lékárničku. Vyberte si ze 4 různých brouků!